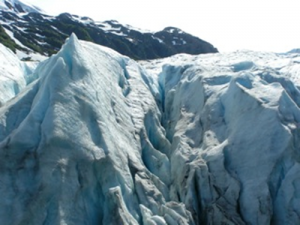 As mentioned before, I have a personal quest to travel on as many of the worlds major rivers as possible. Ive been fortunate to experience the splendor of some incredible waterways already, including this glacial river of ice in Alaska. Beth and I even spent time kayaking in that state last summer.
Have you been to Alaska yet? If you want to go there someday, have you made plans to make it happen? If you have a different travel goal, what are you doing to bring it to fruition?
P.S. Do you want to reprint this article? Please do. Just be sure that it remains intact and includes the following bio.
About Terry: Terry Hickey, M.S., is a Certified NLP Professional Coach, Business Trainer and Consultant, a Certified Master Practitioner of Neuro-Linguistic Programming and the co-owner of NLP Advantage Group. Originator of the Belief Breakthrough Method, Terry specializes in teaching coaches and entrepreneurs how to rapidly resolve limiting beliefs about wealth and success. His tips and strategies can help you launch yourself into the future you want NOW. http://terryhickey.com/